I don't want to be here, take me home please.


---
Circle Tour of the Keweenaw
(well... almost)


This was the beginning of our Keweenaw Circle tour, Houghton. Pictured here, is the Portage waterway lift bridge. The bridge was constructed to allow massive lake freighters to pass freely from the North Entry, to the South. In actuality, the Keweenaw is actually an island, where the northern most stretch of this waterway was dug out of a swamp. This lift-bridge is the only way for motorists to reach the lands north of the waterway. On a side note, the hill on the left of the horizon is Mont Ripley. Yes, it's spelled "Mont". This hill was once my daily escape from the boredom that was Michigan Tech.


---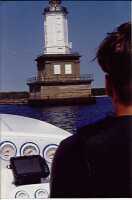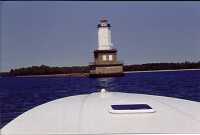 The next stop was the Lower entry. This is where the Portage River empties out into Keweenaw Bay. There's a nice little marina and boat launch on the West Side of the river (which is actually the Houghton side) and the booming metropolis that is Jacobsville on the East Side of the river.
---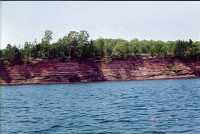 Just North of the lower entry, one can find miles of the infamous "Jacobsville Sanstone". Many of the buildings constructed during the mining boom were built with the stones from these exact cliffs. Water depths are deep enough to get within a few feet of these cliffs with most any modest sized boat.
---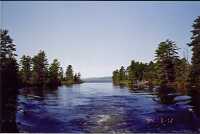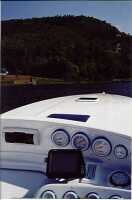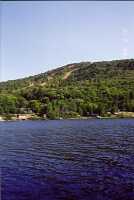 After a long stint up the East Coast of the Keweenaw, we pulled into Lac La Belle. The lake itself is a fairly large sized lake that can easily be accessed by the well-maintained channel off the big lake (Superior).


The Town of Bete Greis (I know the spelling is wrong, but who cares) is nothing much. It basically consists of one marina that opens and closes every other year, a DNR launch and a bunch of cottage's that little the shore. However, with the addition of Mt. Bohemia, this sleepy little area might become something a little bigger.
---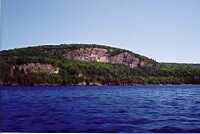 After heading of Lac La Belle, we swing past the Smith Fisheries. I've never been there before, but I understand it's an old fashioned type of fishing camp (hence the name…) About the only way to stop the Fisheries from the water is by locating the large cliffs just to it's south. This is the last sign of civilization on the mainland before reaching Copper Harbor, about 25 miles away.
---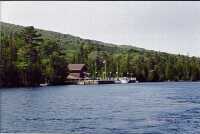 After rounding Keweenaw Point, we met a stiff wind coming out of the west. This chopped things up pretty quickly. After reaching the State Dock at Copper Harbor, we decided it would be best to save the remaining 1/3 distance around the Western Keweenaw for another day.
---