I don't want to be here, take me home please.


---
The Dominator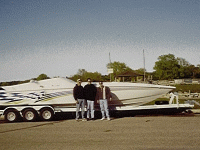 This particular boat was bought in December of 1999 as a demo boat from a marina located half way between Toronto and Montreal. I'd like to say nice things about the guy who sold it to us, but I can't. In fact, he's in jail now. No, really. I'm not kidding, he was (still is) a crook. Boat buyers beware.

The Boat itself is a 2000 Sunsation Dominator. Overall length is 32 feet with the swim platform (intigrated). There are two gas sucking supercharged 454 EFI's that push 31 pitch Spinelli props. Speed is still a mystery, but I'd say it's picked up a few mph... I've taken this boat on a few weekend trips with my college friend Drew (Drew pictured above on right). He's a pretty good deck-hand. He cleans up his puke, keeps the coolers full of beer, and even puts gas in the (120 gallon) tank every now and then.
---
2002 Owners Rally (race)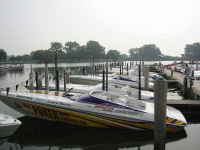 ---
Dyno Run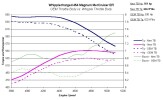 See the latest Dyno runs of the Engines with Superchargers!
---
Boat Trips
Summer of 2000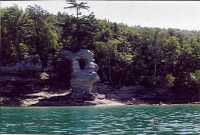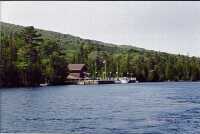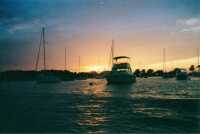 Summer of 2001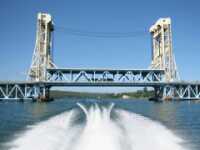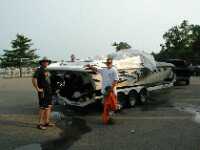 Winter of 2002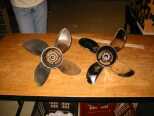 ---
Boat Videos!
---
Dominator Pictures
(click on pictures below to enlarge)


| | |
| --- | --- |
| Docked up for a few hours while grabbing some grub in Algonac. Ironically, Algonac was the birthplace for the boat, as well as the whole performance boating industry. | Too damn long to get the entire boat in the camera frame from the dock view. Otherwise, still docked in Algonac. |
---
| | |
| --- | --- |
| The "legendary" Gull island, which my friends and I have nicknamed "Sausage" Island. We keep hearing all these great stories about wild nekkid women out here, yet we never find anything except drunken dudes. | Helm shot with the "Life Line" jacket. I do believe that's the only thing that say's "Sunsation" on the boat besides the dash plaque. I like to keep things subtle. |
---
| | |
| --- | --- |
| Upgraded gauge layout. New 100 mph speedometer because the old 80 mph jobber just wasn't going to cut it anymore. The voltage gauges were moved behind the steering wheel so the boost gauges could be put in easy sight. | Auto Meter Boost gagues. Wasn't sure if I was going to like the look or not, but decided they matched the Gaffirg's quite nicely once I installed them (about half the cost as well!) |
---
| | |
| --- | --- |
| A pair of 454 Mag EFI's "enhanced" by a set of Whipple Chargers. There was a little bit of modification that had to be done for the install... but they're there... and they work! Biggest problems were getting the Whipple ECU to mount somewhere and relocating the hydraulic hatch lift. | Super charger, intercooler, Whipple ECU attached to intake via "custom" welded bracket. EMI exhaust risers are also seen in the background. |
---
| | |
| --- | --- |
| Had to "customize" the wall in order for the flame arrestor to fit. Thankfully, the original trim piece was used and it still looks like it rolled off the factory floor. Also, a good two to three inches were removed from the back of the seat and replaced with an eighth inch thick steel plate. | I'm not joking when I say it's a tight fit. Looking down on the port motor shows very little room left. |
---
| | |
| --- | --- |
| A set of Bravo I's with Warlock External steering and Innovative Drive Showers all helping push a set of Spinelli prop's. Notice the nice "soot" line just below the swim platform. I'd say the Whipple's make things run a little richer... wouldn't you? | Close up of Drive and Prop. |
---
| | |
| --- | --- |
| Side view of the drives with low water pick-up nose cones installed. As you can see, the skegs have seen the muddy bottom of Lake St. Clair a few already this year. | Docked in Bay Harbor just West of Petosky. Water depth was about 15 feet and the bottom is clearly seen in this picture. |
Copywright © 2001 Grandma Potts and her Bitchin' Bluegrass Band and A.T.S. in Howell, MI
---