Please e-mail Andrew (hey, that's me) with any comments, questions, suggestions, or B.S.



Andrew's Mark of Datsuns: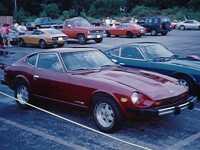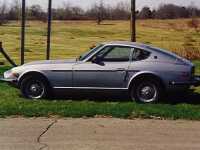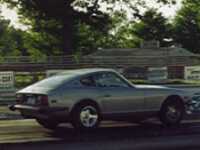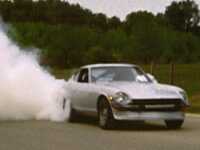 ---
This beast was intially purchased by a friend for the ripe price of \\$600 back in the summer of 1995 near Grand Rapids Michigan. It was rough!!! The tranny was leaking, the body needed paint, the floors were non-existent, the engine was tired, and there was rust everywhere. After pulling the very heavy cast iron intake manifold off the 350ci Chevy motor, we noticed that three cam lobes were worn flat. So... three swap meats, an aluminum intake, fresh cam, and a Holley 4160 later... the motor was actually running damn strong. Big Jer (my friend who bought it) Tried running it at the track, but lack of a neutral safety switch benched him for the event.
In the Winter of 1996, I purchased this rolling monstrosity for the amount of \\$900. After about a week of very hard driving I spun a rod bearing due to low oil pressure and no rev-limiter. Ooops, I guess that retro-fitted Datsun oil pressure gauge was accurate after all. I eventually rebuilt the motor 0.040" over with flat top pistons. Nothing special, just something to get me back in the game.
After the rebuild, I finally got a chance to run The Hulk down the track a few times. My very first run down the 1320 yeilded a 13.9 at 99.9 mph. Not bad for some half witted 19 year old. The best time for my first outing was a 13.6 at 101 mph. Later that summer, I revisited the track and discovered that my frame and floor-less Datsun could run a 13.4 at 102mph... on blemished street tires none the less.
I wish I had a better picture of the hulk, but I believe this one of the very few that are in existence. What ever assumptions you make about the picture, PLEASE don't assume that the paint was as nice as the picture makes it out to be. Big Jer and I painted The Hulk in my driveway for \\$50 with a dozen rattle bombs (spray paint).

---
Eventually I had to find a replacement for the rapidly deteriorating Hulk. My father and I were both worried that I would one day wake up to find a pile of rust surrounding a motor and transmission. Actually, it was the fact that the front wheel would "set" back about three inches when the transmission was put in drive that kind of convinced me to look for a more structurally sound vehicle.
Off to the mighty Internet I went. I looked all across the country for used Z cars. Ideally I was looking for a Datsun that had just been re-painted with a blown motor. Of course, I stood a better chance of winning the 80 billion dollar jack pot, while a 747 would be crash landing in my back yard. Anyway, after failed trips to Houston, Buffalo, Chicago and Nebraska (anyone selling a car will lie over the phone), I finally found, what sounded like a winner, in Tucson Arizona. Now, living in the Upper Peninsula of Michigan at the time, Arizona was a bit of a stretch. However, the old man frequently traveled to Mesa (Phoenix) for business. As it turned out, my father was heading out to Arizona later that week. I gave him directions and sent him out on a little "frolic of business". Before my Dad even arrived back in Detroit, he called to inform me that the car was mine. I asked him what I owed him. His reply was: "If you go out here and get it, I wont ask for the \\$1500 I paid for it." What a guy, my Dad kicks ASS!!!
A month later (May of 1997), I drove out to Arizona and towed the new prize home. The car "was" a 1977 280z. The body had been completely repainted and looked very sharp. The motor had 260,000 miles, all the synchro's in the transmission were shot, and the interior had all the tell tale signs of an Arizona car. Didn't matter though, the engine from the Hulk was strong and it actually had an immaculate interior as well.
A month after the car found it's home in my garage, the small block was pushing the Datsun all around town. It was at this time that Big Jer and I drove out to York Pennsylvania for the 1997 Datsun Z car convention. At the time, Jer had a turbo L28 (2.8 liter 6 cylinder) 240z. His car was almost Identical in acceleration verse my V8. Needless to say, we had a lot of fun driving out there and back. On a sad note, however, a piece of overpass decided to fall off and implant itself in the transmission pan in the "beautiful" city of Flint Michigan on my way home from the convention. This opened up the opportunity for an overdrive transmission (something this car really needed). Hence the 700R4.
---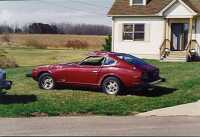 ...this is what happens when a large truck cuts a blind corner a little wide. The worse part about this is that the truck never saw anything and I got a "basic speed law" violation. NEVER EVER EVER EVER tell a cop anything. The only reason I got a ticket was because I told the officer I didn't see how fast I was going. Something about a large truck coming at me that made me not want to look anywhere but forward. This all happened about two weeks after I finally got the 700R4 working properly. The total amount of time I got to drive this car was something like a month or so.
---
After having my prized possession destroyed by a crazy yooper, I was quick to look for a replacement. Again I went back to the Internet. I was having an even more difficult time looking for a second rolling chassis. Failed trips this time included Dallas, Las Vegas, Phoenix and Anaheim. I know, I get around. Finally, while on a road trip to the West Coast, I found a nice 1974 260z in Santa Monica. I snagged the car up for 50% less than the asking price. No, I'm not a good salesman. I think the reason I got it so cheap was because the guy selling the car had a major "you-know-what" for my buddy's girlfriend that was with me at the time. Nothing like a little distraction to drive the price down.
Mark III - Complete Story and Stats
---
---

Copyright © 2000 Granny Potts and her Bitchin' Blugrass Band


---